Infoteria Pte. Ltd. (Singapore), a subsidiary of Infoteria Corporation (Headquarters, Tokyo; Founder and CEO: Yoichiro Hirano; hereinafter "Infoteria") and Tech Bureau Corporation (Headquarter: Osaka City, Osaka; President: Takao Asayama; hereinafter "Tech Bureau") successfully transferred the loan and deposit account data in the main system of BC Finance, one of the largest microfinance institutions in Myanmar', to "mijin"*1, the private Blockchain*2 placed on Microsoft Azure*3 using ASTERIA WARP*4 and "mijin" adapters*5.
We hereby announce that this verifies that ASTERIA WARP and the private Blockchain "mijin" are applicable in the operational process of microfinance and the private Blockchain technology is applicable to account data recording. This is the world's first*6 demonstration experiment that used a private Blockchain in microfinance.
System structure

Overview of the demonstration experiment
Location
BC Finance head office (Yangon, Myanmar)
Period (including review period)
May 28 – June 5
Engineers participating in experiment
Three in total (two from Infoteria and one from BC Finance)
Current system
Package product available on the market
(data stored in Microsoft SQL Server)
Blockchain used in the experiment
mijin (private Blockchain)
Blockchain operational environment
Four nodes are placed on the Microsoft Azure cloud service
Data interchange platform
(data extraction and writing)
Connected to mijin using ASTERIA WARP and mijin adapter
(This demonstration experiment was the first time that "mijin" ran on Microsoft Azure.)
< Process Overview >
We recorded all transaction history (account data) of active accounts at a branch of BC Finance (operates a total of 19 branches placed in eight states) in a private Blockchain "mijin" using ASTERIA WARP and "mijin" adapter.
BC Finance assigned a total of three accounts, including one loan account and two savings accounts, to each account (customer).
< Future Plan >
(1) We plan to carry out an experiment for concurrent and consecutive operations over a certain period of time. This is scheduled to begin in the first half of July and continue for approximately six weeks.
(2) We will consider developing an application that enables data writing and viewing from the clients (terminal at each branch) to "mijin".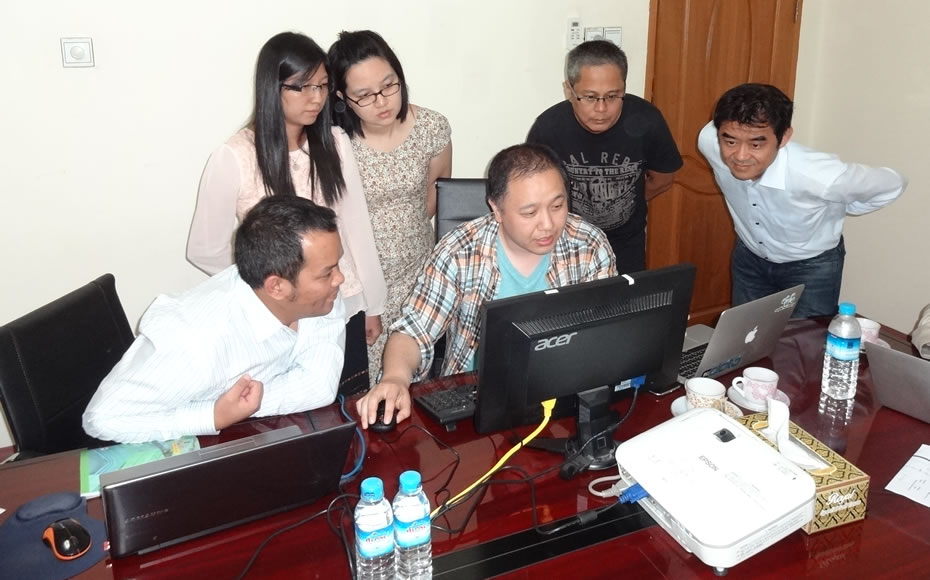 [Demonstration experiment site, May 30, 2016, at BC Finance, head office)
Upcoming developments
The number of bank accounts in Myanmar is still limited to approximately two million for a population of more than 50 million, and bank services are available only to the affluent, who represent only a small portion of the population. Microfinance provides financial services such as loans and deposits to the broader population, and as such plays an important role in supporting Myanmar's economic growth. Myanmar has achieved 7-8 percent economic growth since its democratization in the spring of 2011, and in the spring of 2016, the military government came to an end, encouraging the lifting of economic sanctions imposed by the U.S. Such factors are expected to facilitate further growth, and a significant increase in the number of BC finance customers is expected.
While the current system means rising costs of data management as the number of users grows, the introduction of the Blockchain technology enables the safe and low-cost operation of account data. We expect that this will facilitate the growth of the microfinance business.
Infoteria and Tech Bureau are focusing on the promotion and penetration of Blockchain technology not only in Japan, but also overseas. The two companies plan to develop this alliance on a global scale by applying the result of this experiment to other countries.
Comments from Mr. Akira Sakakibara,
Chief Technology Officer of Microsoft Japan Co., Ltd.
Microsoft Japan welcomes the successful demonstration experiment of private Blockchain in microfinance. Microsoft's cloud service product, Microsoft Azure, provides a reliable computing environment that requires high-level security, high performance, and one of world's largest data center networks. In this experiment, Infoteria and Tech Bureau succeeded in recording the account data of microfinance transactions carried out by BC Finance in "mijin" running on Microsoft Azure through Infoteria's ASTERIA WARP. This means further expansion of the scope of application of the Blockchain technology and also the delivery of the value of Microsoft Azure as a platform of Blockchain operations to a larger number of customers. Microsoft will continue to provide products and services that contribute to increasing the value of our customers' business through the promotion of Blockchain technology.
Comments from Mr. Jeremy Kloiser-Jones, Chief Executive Officer of BC Finance
We are very excited about this first project with Infoteria, testing ASTERIA private Blockchain in our core banking system. However this is just the start. While we expect it to bring significant savings, leveraging the technology to the next level—replacing analog processes and freeing up employee and customer time, will likely produce more significant savings. On these topics, please expect more announcements from BCF and Infoteria.'
Comments from Takao Asayama, President of Tech Bureau
From manual transaction management using Excel to compilation as a database, and direct correction of entry errors in the data. Such operations are performed on a daily basis as ordinary tasks in financial service businesses around the world. Conventionally, transfers from this stage to the main system was extremely costly; however, this experiment showed that by using only the basic functions of "mijin", a stable, low-cost financial system with a clear locus of responsibility could be built based on a Blockchain. We feel that we have made a new step forward in Blockchain technology by having completed without difficulty the mission of managing multiple accounts per user without compromising the user experience.
Comments from Yoichiro Hirano, President and CEO of Infoteria
Infoteria conducts development and demonstration experiments of Blockchains, aiming to make them available for corporate use in a range of applications with ASTERIA WARP. Microfinance in developing countries is a socially significant business, and we believe that the potential for Blockchain to contribute to social infrastructure development through grassroots in developing countries, as indicated by the experiment, will drive significant progress for our company.
---
About Infoteria Corporation (website: www.infoteria.com/ )
Founded in 1998 as Japan's first XML-dedicated software company, Infoteria Corporation develops and sells software products and services that connect a large variety of computers and devices within a company. Infoteria 's core product, ASTERIA, is an application that interchanges data among different computer systems without programing, which has been adopted by 5,471 companies, mostly large and medium-sized, (as of the end of March 2016). Handbook is used by 1,027 companies and public organizations (as of the end of March 2016) as the standard service for carrying around all kinds of electronic files such as marketing materials, product catalogs, and meeting handouts on a smartphone or a tablet.
About Tech Bureau Corporation (website: techbureau.jp/ )
Tech Bureau is a "crypto-FinTech lab" that develops software products and services based on cryptocurrency and Blockchain technologies. The company provides the exchange platform, Zaif, for cryptocurrencies such as Bitcoin and the private Blockchain-based software, mijin, develops Blockchain technology under contract and provides consulting services.
BC Finance is a licensed microfinance institution in the Republic of the Union of Myanmar. Our vision is to lead the industry by leveraging technology to provide microfinance and associated services to the people of Myanmar who currently have inadequate access to quality financial services. We strive to contribute to the development of the country by helping people to grow their businesses and improve their living standards. With a total of 19 branches in eight states of the country, BC Finance has the largest branch network of any commercial microfinance institution in Myanmar.
---
*1: mijin is a platform for building a private Blockchain environment on a cloud or in an internal datacenter, which can be used within or between companies. It replaces an existing database or account system to dramatically reduce costs, builds an inalterable security environment, and achieves substantially zero downtime. The platform can be used widely for financial institutions, electronic money and point systems, online games, and logistics. Developed in a partnership with open source blockchain project NEM.
(Website: mijin.io/ )
*2: Peer-to-peer data processing platform technology invented by Bitcoin. It is characterized by the distributed consensus-building done by multiple computers and multiple data processing in each block while providing cryptographic signatures. It runs on low-price computers and achieves zero downtime and security with data inalterability. No backups and redundancy are necessary, and the dramatic cost-reduction made possible by the technology and the absence of system failures, even when used beyond its capacity, also attract financial institutions.
*3: Cloud service provided by Microsoft.
*4: ASTERIA WARP is a middleware product that allows data transfer among different computer systems without programing. It is highly recognized for its ability to use logics that connect various systems from mainframe and cloud servers to spreadsheet programs and convert data without complex programing. The product has maintained the largest share in the domestic market of data interchange products for corporations (EAI/ESB products) for nine consecutive years.
(Website: www.infoteria.com/jp/asteria )
Source: Techno Systems Research, "2015 Software Marketing Overview, EAI/ESB Market Edition"
*5: Adapter to connect and transfer date between mijin and ASTERIA WARP. The adapter contains mijin API, which allows the user to use the product without much knowledge of mijin API and easily builds a data interchange platform with an existing system.
*6: According to research done by Infoteria and Tech Bureau.
(In the case announced as of the end of May 2016)
---